Work
RGHT heritage trails
Creating multi-platform heritage trails
A new set of heritage trails for Woolwich promoted in print, on site and digitally – creating a full rounded experience.
Printed trails
The trails are explained in print in concertina leaflets which open out to reveal map and details. The children's trail is sized slightly smaller than the adults in order to clearly differentiate and to make it easier to handle for smaller hands.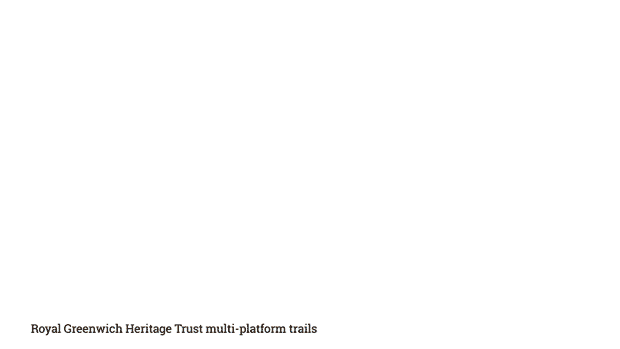 Two alternative trails are detailed on the leaflets with maps to follow which make it easy and show how the trails relate to each other.
The adults' trail includes interesting facts about each of the sights on the trails.
The children's trail incorporates activities and tasks to complete as you go around the trails.
Digital platform
Online: the trails can be downloaded and further information for each of the sights on the trails is available. The online platform allows for more information to added as it is discovered.
QR coded stickers on locations
Stickers on the various locations in the trail provide links to the website where more information can be discovered. The use of stickers which can be removed without damaging any surfaces allowed them to be used on listed sites.
Branding
Further development of the Friends scheme for the Trust engaged with already established local groups to create one strong membership group all focused on heritage in the Royal Borough of Greenwich. The new offer was promoted via a flyer at local events leading with rebellious copy, and a leaflet to be picked up at Charlton House and the Greenwich Heritage Centre.
Marketing
Creating a suite of literature to promote events across the Trust's site and act as a visitor guides for the two main attractions – Charlton House and Greenwich Heritage Centre.
Branding
Supporting a newly established trust by making a bold mark and setting out it's positioning.