Work
Hindwoods marketing
Helping promote Hindwoods services to a wider audience
Working with Hindwoods to help raise their profile through more consistent marketing materials and specific event or targeted promotions. Property is a tough business and so our client welcomes the support to gain an edge over the competition.
Services postcard
A leave-behind postcard created to promote other services to customers who have commissioned a survey from Hindwoods. A witty image was more likely to engage in this more personal new business approach.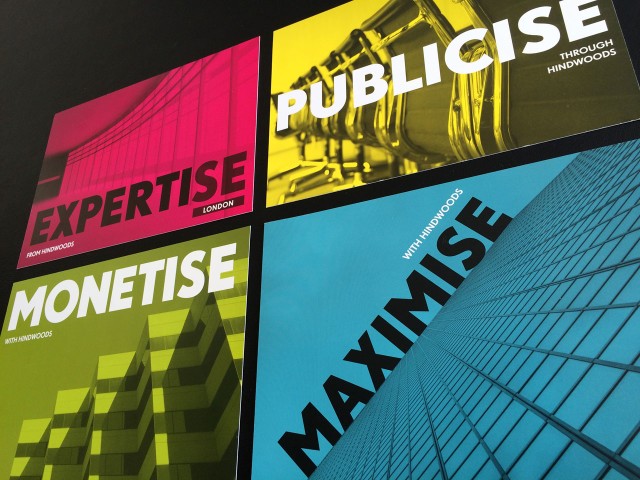 Commercial property mailers
A set of postcards mailed out to business owners to promote Hindwoods services to help them let or sell their commercial units. The postcards lead with incentivising, one-word headlines.
South East London Expo 2017
A new property expo in South London offered an opportunity for Hindwoods to present itself to investors in the area. We supported them with stand design and marketing booklet.
Small pocket booklet opens out to reveal the services provided by Hindwoods in bold colours.
Newsletter
Starting a regular conversation with its contact list, Hindwoods has created a regular newsletter to showcase the variety of work they handle and the achievements for clients. We designed the template, trained the client to use the software and support them with on-going content direction and copywriting.
Announcement ad
2019 is an exciting new year for Hindwoods with new riverside head office, new website designed by us and a newly acquired service office in Croydon. Our ad highlighted the long history of the company and that it is fit for the future. We managed to find an image of the same riverside location as their new office from the 1800s.
Marketing
Working for Hindwoods Chartered Surveyors to promote a variety of commercial and retail property options for clients across London.
Digital, Corporate
A complete overhaul of the Hindwoods website was made to focus the content on the four main business areas; commercial agency, professional services, residential agency and property management.