Work
Greenwich Learns
Establishing the adult learning offer in Greenwich
Greenwich Council approached us to help them clearly communicate the wide range of courses available at low-cost or free to adults within the Royal Borough of Greenwich. We proposed a combination printed directory and new searchable microsite. Following a tender process we were successfully commissioned. Working closely with both the client and their 10 service providers we have established the first comprehensive one-stop-shop for finding courses in the borough. This has been a great step forward to sharing the education offer wider and more easily and we hope to continue to work with them over the next year to further develop the website and printed comms.
Establishing an accessible brand
We created a bright, colourful and symbol driven brand and brand language which can easily be expanded on and applied to the variety of learning offer available. The new look was applied consistently across the printed directory, marketing materials and website.
"Fit Creative were a pleasure to work with. Their enthusiasm and insight for what we do came through in the end product which was better than anything we had dreamed possible within our limited budget and challenging timescales. Everything was super clear, efficient and professional. Their design is fresh, appealing and user friendly and we are very excited about using the new website and brochure to promote our service."
Jayne Deeley
Economic Initiatives and Skills Manager
Employment and Skills
Directorate of Regeneration, Enterprise and Skills
Royal Borough of Greenwich
Producing the directory
Handy sized directory lists all the courses available and highlights the low-costs, locations and teaching providers. Users are directed to the website to get more information and to apply.
Creating the digital platform
A new website which works as a responsive design and covers the majors areas of finding a course to suit you, identify any related costs, see where the teaching locations are across the borough and read more about the adult education providers.
The new website allows visitors to search through the courses in many different ways via subject type or using the search function variables.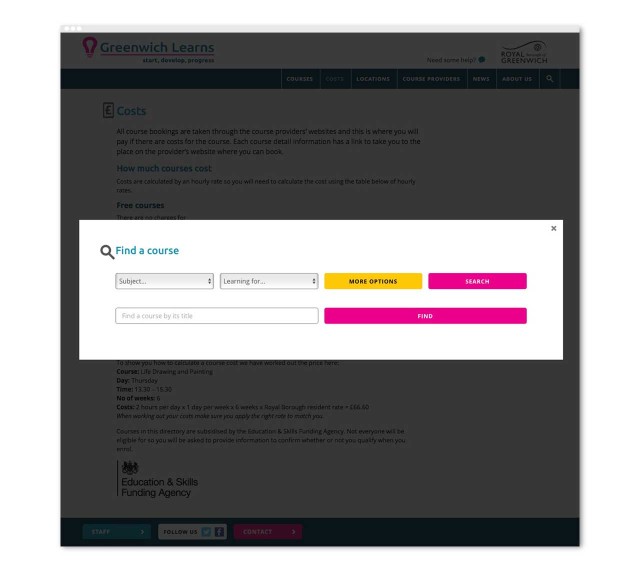 Clearly explaining the costs
Showing the teaching locations
Representing each teaching provider
Promoting the upcoming year of courses
Flyer introduces the concepts of types of learners and subjects covered to locals.
Student video testimonials
In the second year of promoting the adult learning offer we recorded a set of student testimonials on video and in writing.
In support of the video we produced longer students statements as case studies.
Year 2 directory
In the second year of promoting adult learning we refreshed the directory with new courses and new testimonials from past students.