Work
Visit Greenwich Workzone
A new employment initiative programme
A new employment initiative from Visit Greenwich for residents of the Royal Borough of Greenwich to promote careers in tourism, leisure and entertainment. The programme includes workshops and mentoring. Greenwich is at an exciting time in its long history with numerous developments along the riverside not least of which is a new port as well as a new Intercontinental Hotel. We directed and produced a number of videos and produced the supporting marketing materials.
Creating a sub-brand
We created the sub-brand for Workzone under Visit Greenwich with a bold visual language. The strong brand mark is supported by the Visit Greenwich logo and uses a vibrant magenta for maximum standout.
Flyers and posters
Printed marketing tools meant the programme could easily be shared on the street and at the three JobCentre Plus offices around the borough.
Video testimonials
Scripted, directed, edited and animated three video testimonials from three inspiring young individuals who work in the Greenwich tourism and leisure industry and had unusual approaches into their sector.
Working with inexperienced people meant we spent more time scripting what they were going to say and working with them to achieve the best representation. The fast cut edit created more pace and the text animation allowed the videos to be seen in non-sound environments such as the Job Centre waiting room.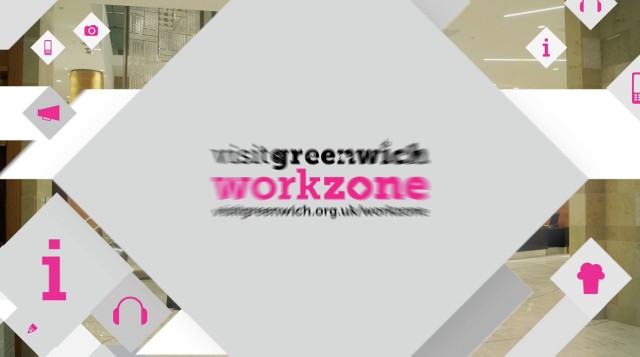 Branding
We worked closely with Visit Greenwich to identify the key assets and most recognisable elements of Greenwich's heritage and culture and then incorporate them into a typographic logo.
Marketing
We have created a series of publications aimed at the cruise industry to promote the new offering of a cruise liner pier and facilities at Greenwich Peninsula completing in 2018.
Marketing
A series of guides, leaflets and maps designed to highlight the major attractions in Greenwich and ensure visitors make the most of their time on site.